Hawaii Wedding Photos
by BRIDAL DREAM HAWAII
Photographer: Robert Hamilton
Location: Papailoa Beach (Haleiwa, Hawaii)
Photographer Robert Hamilton
Our team of Photographers would be pleased to shoot your Wedding Photos in Honolulu, Hawaii. We shoot over 70 photos in an hour Wedding & Photo shooting session, and choose the best 41 photos to go into our Rosewood Album.



PHOTOGRAPHER RATES
- 70-90 Photos on CD (Honolulu area): $299.00
- 120-140 Photos on CD (Honolulu area): $399.00
- 150-200 Photos on CD (Honolulu area): $499.00
*Add $100.00 for Ko Olina, North Shore, or Windward Oahu.
12x12 Wedding Album: $199.00

Rosewood Album

41-Photo Rosewood Album
Add a 41-photo Album to your Wedding package, prints included.
Album & Prints: $79.00 (prints & album separate for your own assembly)
Album & Prints: $129.00 (assembled)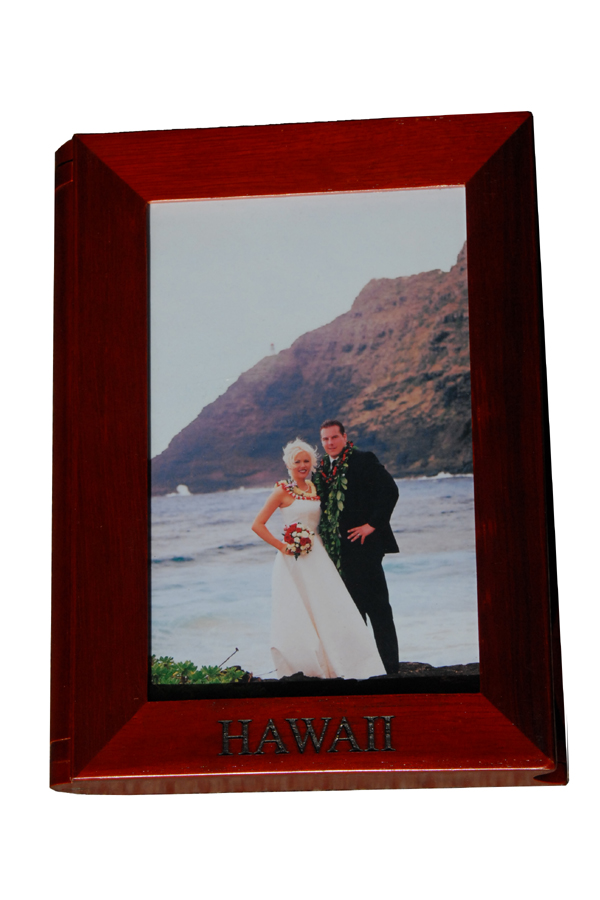 100-Photo 4x6 Rosewood Album
One hundred wedding photos collected in a Rosewood Album. This Album is for wedding packages with two Photographers or two or more Photo-shooting locations (such as Waialae Beach Park and Magic Island).
Album & Prints: $99.00 (prints & album separate for your own assembly)
Album & Prints: $179.00 (assembled)


*You may order your Album with the prints already in it or order a set of prints by mail and an empty Album at a lower price if you wish to put them in the Album yourselves. (Please pick up the Album at our Office to avoid shipping charges.)
100-photo Album (4x6)
Available either in Rosewood or Silver style. You may want to upgrade to our 100-photo Album for a greater variety. We usually use two cameramen, which gives more candid shots (the best kind!). Or, you may have your photos taken at more than one location for a change of scenery.
It's a nice idea to have your Wedding at Waialae Beach Park, and then catch the sunset at Magic Island.
100-photo Album: $499.00
Photographer & Photo CD included.
DVD Photo Slideshow
Let us put your Digital Photos into a Slide Show with romantic background music to watch on your TV on your Anniversaries. Only $100.00!

A Photo Tour of seven beaches is also available (including your Wedding Location):
7-BEACH PHOTO TOUR: $650.00
100-photo Album, with photos from 7 beaches
Wedding Photos on CD
Photo Slide Show on DVD
See the DELUXE HAWAII WEDDING PACKAGE.
8x10 Photo Album
Some of our Wedding Packages have an 8x10 Album included. This Album has much more impact because of its large size. Twenty 8x10 Wedding photos collected in a White Album. (Black Albums also available.) $240.00 upgrade (purchased with 4x6 Album)
For a beautiful KOA WOOD WEDDING ALBUM, add $250.00 more.
9x11 Memory Book
We can upload 20 of your Digital photos for printing in a 9x11 Memory Book. Available in White, Gray, Baby Blue, Navy Blue, or Black. Free shipping included. See this option available in the DELUXE OAHU WEDDING. $100.00 upgrade (purchased with 4x6 Album)
Hawaiian Wedding Video DVD
Share your Hawaiian Wedding with your Family back home! A professionally produced Video of your Wedding in Hawaii for $299.00.

Framed 8x10 Wedding Photo
Our GRAND HAWAII WEDDING features two matching dark wood framed 8x10's to hang on your wall back home.
Regular Frame with Photo: $40.00 each
Deluxe Gold Frame with Photo: $60.00 each


Shipping of CDs or DVDs is free to the U.S.A., $10 to CANADA, or $20 International. For mailing of Albums or Framed Certificates, please add $20 per item for USA, $25 for CANADA, or $40 per item (International). Delivery to hotel is $20.00.
Contact us at the address below for quotes on Wedding Photography in Honolulu, or on Maui or Kauai.

HawaiiWeddingPhotos.net
(808)772-1140 or (808)924-3600
bridaldreamhawaii@gmail.com


Send Mail Inquiries to:
P.O. Box 23311, Honolulu, Hawaii 96823